Možnost navrhnout severský stánek si vybralo asi šedesát studentů Fakulty architektury ČVUT, kteří pod odborným vedením pracovali na návrzích v průběhu celého zimního semestru. Jelikož někteří studenti tvořili ve dvojici, vzniklo dohromady asi padesát návrhů. Poté se třikrát sešla hodnotící komise a pečlivě vybírala návrh nejlépe splňující zadané požadavky. A nyní známe vítěze!
Po těžkém rozhodování a zvažování všech stránek realizace komise vybrala návrh Markéty Rádkové a Moniky Fišerové z ateliéru průmyslového designu Jaroš – Gonzalez. Slibujeme si od něj, že bude s jinými stánky na veletrhu nezaměnitelný a že díky svému inovativnímu designu přivede na veletrh i návštěvníky, kteří se zajímají také o architekturu a design.
"Pro veletrh Svět knihy Praha je to poprvé, co stánek čestného hosta navrhují studenti designu a architektury. Obdobnou spolupráci se studenty nedávno využilo Finsko v roce svého čestného hostování na nejproslulejším knižním veletrhu ve Frankfurtu nad Mohanem," uvedla ředitelka pražského veletrhu Dana Kalinová.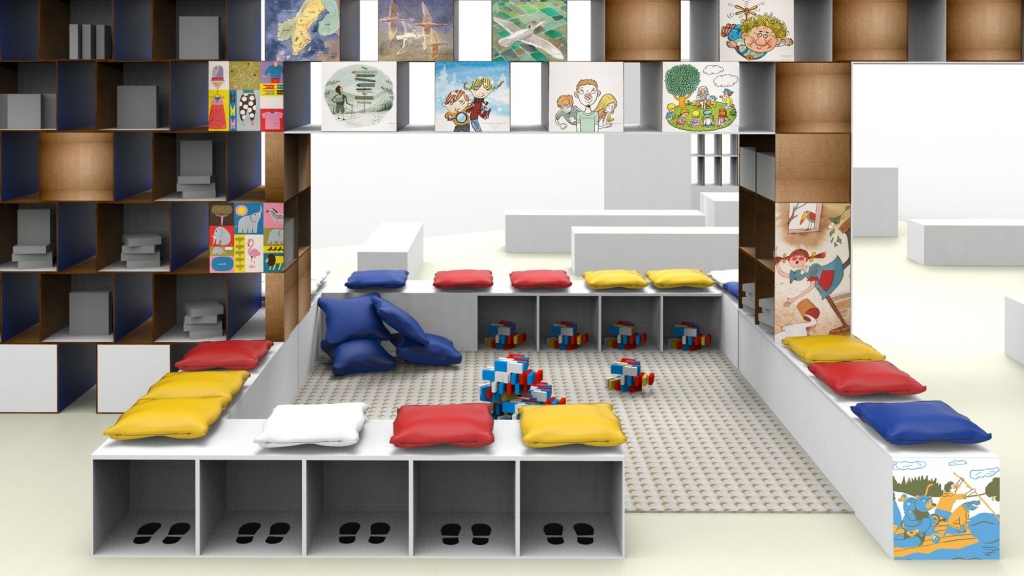 Vítězný design sestávající z krabic z papírové lepenky komisi zaujal detailní promyšleností, vstřícností vůči návštěvníkům a šetrností k životnímu prostředí. Jednotlivé krabice jsou laděny do barev severských vlajek a stánek z různých pohledů mění svou tvář. Dětský koutek lemují kostičky Lego Duplo a ilustrace ze známých severských dětských knih, které vyšly v českém překladu. Stavbu realizuje společnost Veletrhy Brno. Vystavené knihy i část kartonového mobiliáře poputují po skončení veletrhu do domovů pro seniory a dětských domovů. Věříme, že návštěva stánku bude pro dospělé i děti nezapomenutelným zážitkem.
"Během sbírání inspirace pro návrh veletržního stánku nás zaujal severský přístup k přírodě. Na začátku jsme dělaly několik týdnů rešerši, při které jsme nalezly nespočet úžasných fotek přírody a architektury. Každá země se liší a my se nechtěly inspirovat pouze architekturou nebo charakterem přírody jedné z nich. Proto jsme zůstaly u šetrného zacházení s přírodou a u samotné knihy. Kniha je tvořena z papíru a papír vychází z přírody, je to recyklovatelný a obnovitelný materiál," poodhalily designérky své řešení nelehkého zadání.
Jitka Jindřišková a Michal Švec, Skandinávský dům
info@readnordic.cz, +420 775 236 635 nebo +420 775 991 112
Kampaň #ReadNordic propaguje severskou literaturu. Organizují ji severská velvyslanectví a kulturní institut Skandinávský dům za podpory Severského kulturního fondu, Dánského uměleckého fondu, Švédské kulturní rady a Finského předsednictví v Severské radě ministrů. Vyvrcholí veletrhem Svět knihy Praha 2016, kde budou severské státy čestným hostem.